Freeze Frame: Paragliding Worlds 2015
نویسنده: parapink5 learning training paragliding |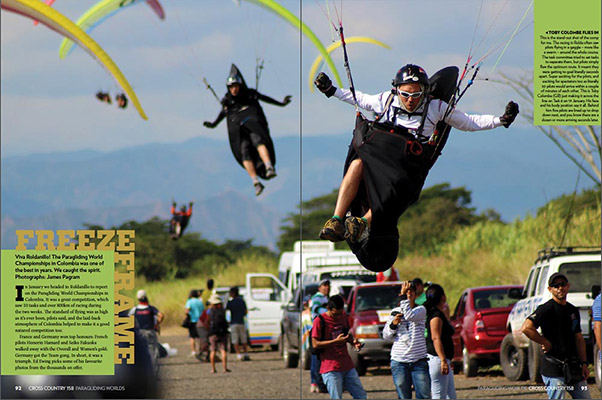 Touchdown! At the Paragliding World Championships in Colombia.
What do you get when you mix 150 racing paraglider pilots and Colombia's world class Roldanillo flying site in the middle of January? One great South American cocktail – the best Paragliding World Championships in years.
In January we headed south to photograph and report on Roldanillo 2015 – and we haven't stopped talking about it since. We shot over 3,000 stills and made dozens of short movies – many of which we shared on Facebook and around the web, both through the official competition website, our channels, and others.
For the magazine we chose our absolute top picks – the ones that might not have got the most likes on Facebook, but the ones that meant something to us and had a story behind them. Through them we tell the story of the competition, including the highs, the lows, the great flying and the amazing people.
The result is Freeze Frame, our tribute to the Paragliding World Championships 2015. Published across eight pages in Cross Country issue 158.
- See more at: http://www.xcmag.com/2015/03/freeze-frame-paragliding-worlds-2015/#sthash.4skMof0g.dpuf
cb:post_continue_link]